Reconnect to your soul, find clarity and rejuvenate...
Be the Master of your Wellbeing!!!
Watch this video before it's too late to receive free energy from Virginia Rounds Griffiths!
Total Package Value: $3,522
For Limited Time Offer:$97.95

Virginia's Clients Have Amazing Experiences
"I'm dancing for the first time in 5 years!"
"Because of her incredible healing energy I am going dancing tonight for the first time in over 5 Years!!!....My pain went from a Level 6 down to a Level 2 in minutes!!! The healing continued & two days later I was able to walk pain free!!! Which is why I am looking forward to dancing tonight on Day 3!"
~ Peg Sue
"I am totally free of my water fears now"
"I came to Virginia uncertain and apprehensive of what I might be letting myself in for. I am so glad I did! I've always had an issue I had with the water which meant I could not go near the beach or even swimming pools. This was eliminated in that first session. In a past life I had drowned and with this realisation I was able to release the fear of water and have started swimming lessons...
I am totally free of my water fears now - thank you words cannot express my feelings enough.Past life with my mother ……….resolved my understanding!!!"
~ Debbie Watson - Bracknell, Berkshire
"Clear of Migraines & Eyestrain!"
"As I work in IT I'm aware I'm surrounded by technology all day, every day– as a consequence I get a lot of migraines and eye strain. After a few sessions with Virginia I now have tools that help shield me my laptop and I'm more aware of when I need a break from working. When I need a tune up - Virginia is first point of call. Thank you to her and her team."
~ Jeni – Basingstoke, UK
"Woo Hoo ……my belly is happy with what I eat!!!"
"I am gluten intolerant but I am constantly tempted by wheat products – even as an intolerant I still love pizza and bagels! I know when I have overindulged because my belly gives me a lot of discomfort. I came to see Virginia for another issue and found out that she had this ability to change the structure of the wheat to not interfere as it had been doing. I am so thankful for this discovery and could not recommend this process highly enough…do yourselves a favour and see Virginia for a session"
~ Jessica – Reading, UK
Fed up with your work or family life?
Depressed or stuck in a rut?
Do you feel like you have lost your spiritual connection?
Are you wondering how and where it all went wrong?
Do you wish you could take back control and stand in your power?
Positive Transformation Is Available To You Now
Reclaim yourself and your power!
Gain more clarity in your life and find the answers you need to solve your indecision
Allow more love, joy and gratitude to flow into your life
Repair and realign your chakras and energy system and feel more balanced and energized
Feel euphoric and free from of the loop of negativity
Be able to put the past behind you and move on…
Release any entities and implants from your energy
Find your way back to Source and your Soul
"Confidence and Self- Worth Addressed!"
"We worked on my lack of self-worth that stemmed from this lifetime as well as past life times and also had genetic and ancestral origin. We also worked on my doubts around my intuitive abilities.
The following day after my session with Virginia I was surprised and really pleased to notice a new level of confidence when I was doing healing work and I also felt a deeper trust with my work. Thank you so much Virginia."
~ Lesley – Melbourne, Australia
"Family Cat is Happy Now!!!"
"Dear Virginia, I feel the cleansing of the House and of the entities from myself, and three other members of my family was needed as I had felt the energies were not positive in my home. I felt immediately lighter and freer almost instantly and thank you too for the methods you taught me to keep the house and ourselves protected. I do appreciate your help and openness, and everything you have done for me and my family"
"Hi Virginia I thought I would follow up and tell you that our cat who used to go into the children's room and cuddle up with them - was avoiding their rooms until you cleansed the rooms and our house. Now she is back in the rooms and cuddles are back too. I had forgotten this and when I saw her going into their rooms it triggered my memory so I thought I would tell you about this - once again my eternal thanks"
~ Marian - Croydon, Surrey
1

Entity & Negative Implant Removal
2

Optimum Chakra Health for Clarity & Wellbeing
3

Realign Assemblage Point - Known as the "Seat of our Consciousness".
4

RELEASING PAST LIVES - Through the Grace of the Lords of Karma
5

Release Genetic Blockages - Heal the past and free your entire bloodline for the future
6

Clearing Your Environment - House, Land, Cars, Animals and Furniture
7

Geopathic Stress Cleared - Known as Earth Sickness
8

Technopathic Stress Cleared
9

Alchemise & Alkalise GMO Foods
10

Alchemise Food Intolerances - Wheat, Gluten, Dairy, Yeast
11

Alchemise Liquids - Water, Tea/Coffee, Wine
12

Alchemise Liquids - Water, Tea/Coffee, Wine
13

Alchemise Medications - Tablets, Capsules, Tinctures
14

2 Recorded Group Calls on Clearing and Q&A
15

Alchemise Radiation - X-Rays, Microwaves, MRI Scans, CT Scans Chemotherapy and more...
Total Package Value: $3,522
For a LIMITED Time ONLY: $97.95
"Peace Restored!"
"Thank you Virginia for the Geopathic cleansing you performed on our house in Carraroe in Connemara – firstly my four children have been restless and disturbed at nights, the sensitive one is constantly unsettled. The house has always felt odd and there are rooms and places that you identified accurately as having some energy interference. The front door is always full of ants and there is a patch of ground that nothing grew on. Since you have cleansed our home the children are so much more calm easing my days and nights and the ants are not there anymore plus that patch of bareness is starting to grown grass again- I cannot thank you enough for the peace I have now with the children and the fact I cannot feel that terrible energy any longer – you are amazing!"
~ Sinead – Co Galway, Ireland
Meet Virginia Rounds Griffiths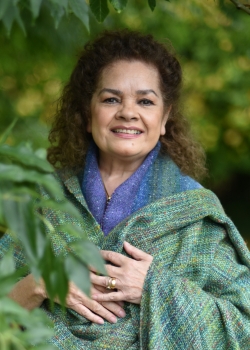 I work globally with thousands of clients as a Medical Intuitive and a Energy Alchemist, based in the UK in conjunction with my Spiritual HEART TEAM of various Ascended Masters and Archangels and of course through God/Source/Holy Spirit and Mother Earth.
As a Medical Intuitive I scan your body, tell you what I find and clear any negative imbalances that are detected to bring harmony, balance, and wellbeing back to your life
As a Energy Alchemist I clear and remove negative energies from your body and I also clear houses, land, hospitals, schools, purifying water of negative energy.
My passion is to be of service to Source thereby to all sentient Beings on Mother Earth
Total Package Value: $3,522
For a LIMITED Time ONLY: $97.95
DISCLAIMER: The information on this site is not intended or implied to be a substitute for professional medical advice, diagnosis or treatment. All content, including text, graphics, images and information, contained on or available through this website is for general information purposes only. Please see a medical professional if you need help with depression, illness, or have any concerns whatsoever.
WE DO NOT OFFER MEDICAL ADVICE, COURSE OF TREATMENT, DIAGNOSIS OR ANY OTHER OPINION on your conditions or treatment options. SERVICES OR PRODUCTS THAT YOU OBTAIN THROUGH THIS WEBSITE are for information purposes only and not offered as medical or psychological advice, guidance or treatment.
CONSUMER NOTICE: You should assume that From Heartache To Joy has an affiliate relationship and/or another material connection to the providers of goods and services mentioned on this page and may be compensated when you purchase from a provider. You should always perform due diligence before buying goods or services from anyone via the Internet or offline.
REFUND POLICY: Please know that in order to honor the Law Of Energy Exchange, all exchanges need to be fair energetically. We love and honor all of our valued listeners and speakers. We are happy to offer a hassle free, 30 day Money Back Guarantee to our customers to help them decide if a certain product works for them or not. However, in order to honor our speakers and their hard work we can only offer refund on one package for every customer per 90 days. Multiple refunds by same customer within 90 days will not be accepted. If speaker's offer involves personal sessions, then guarantee will be voided if the session has been availed. Additionally all refund requests should be sent within the 30 day guarantee period. We thank you in advance for respecting the energy exchange.
Copyright © 2023 - Eram Enterprises Inc - All Rights Reserved